The Gharwal Himalayas have been long associated with spirituality, peace, romance and adventure. Tranquility adorning the mountains, lush green meadows dazzling under the morning sun with crystalline lakes and adding a soothing effect to the dense forests, Garhwal Himalayan region has evolved as an adventure embedded destination sought by millions of travel enthusiasts from all over the world. Lets check out few top adventure places in Garhwal Himalayan region where you can plan your best adventure holiday in India either as a solo traveler or in group.
1.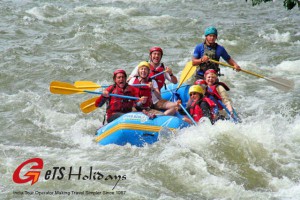 Rishikesh: located in the lap of Garhwal Himalayas at an average elevation of 372 metres, Rishikesh is widely referred to as the "world capital of yoga". White water rafting in the holy Ganges that start from Kaudiyala and ends at Laxman Jhula is the most sought after adventure sports in Rishikesh. The good part is that the 36km long rafting stretch does not always require an experienced rafter, an amateur too an enjoy the sport. With the Ganges cutting through the valleys and flowing in a zigzag way between the Himalayas, White water rafting gives rise to a heavenly experience. Other water sports like bungee jumping, cliff diving, kayaking, rock climbing and rappelling also add to the fun. A lot of camping facilities are available by the riverside to make your vacation a hassle free and fun filled one.
2. Auli: with time this quaint hill station has achieved the status of "the best skiing destination in India and Himalayas". The panoramic view of the snowcapped mountain peaks like Nanda Devi, Chaukhamba, Neelkanth, Gauri Parbat, Hathi Parbat and Dunagiri add unbound solace and breathtaking moments to your skiing expedition. During the winter months Auli remains absolutely enveloped by snow giving rise to heavenly trekking expedition along the famous Kuari Pass Tapovan trekking zone via Gurson. A holiday in Auli not only not only gears up your adventurous mood, but also leaves you completely rejuvenated by its pristine natural beauty.
3. Valley of Flowers National Park: at an altitude of 3,600 meters, the Valley of Flowers National Park is the home to exotic flowers like Cobra Lily, Himalayan whorl etc. Trek to Valley of Flowers resumes from Govindghat, close to Joshimath. Going along the Lakshman Ganga River, you will reach Ghangria camping site, the gateway to Valley of Flowers. From orchids to daisies, Valley of Flowers promises to leave you astonished with its string aroma and colorful surrounding.
4. Nanda Devi National Park: surrounding the beautiful peak of Nanda Devi, the Nanda Devi National Park is the home to animals like Snow Leopards, Himalayan Musk Deer, Himalayan Tahr and Mainland Serow. Stretching around 630 square kilometers, the national park has been aptly designated as a world heritage site. A trek to this forest reserve is accompanied by sparkling meadows, beautiful gorges and deep valleys. Once you reach here you will get the panoramic views of Trishul and Dunagiri peaks.
For an exotic adventure holiday in the Himalayas, get in touch with GeTS Holidays, which takes care of all your needs and help you plan a memorable vacation in India.