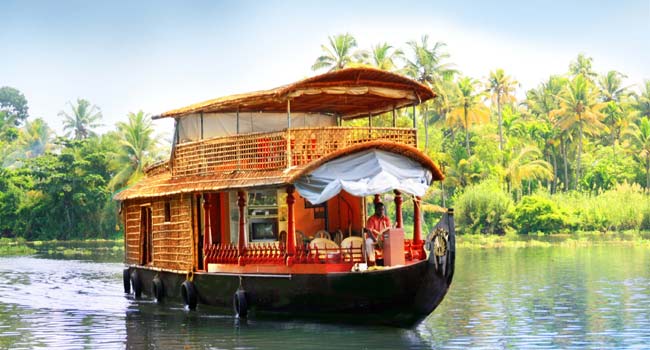 An enchanting place to spend your holidays enjoying the greenery and backwaters, Kerala is perfect to rejuvenate and relax, away from the realms of city life. Located on India's southwest coast, it offers the perfect setting to renew your soul and nourish your senses. Blessed with a diverse landscape ranging from tall coconut tree-lined beaches, wildlife reserves, mountains, spice plantations and a maze of soothing backwaters. You feel elated by the green surroundings, small villages and the vibrant people you meet. The serenity of the place calms you down. In a wink of an eye you are transported to a paradise which just leaves you craving for more!!
The palm-fringed beaches of Kovalam, serene backwaters of the magical Alleppey and Kumarakom, the mighty lush green hills in Wayanad and Munnar and the amazing wilderness of Periyar, Kerala will completely spellbound and mesmerize you with its sights. The main attractions are undoubtedly the houseboats. Popularly known as "ketuvalloms", these houseboats are equipped with modern facilities. A Kerala trip is incomplete without enjoying a backwater cruise on these houseboats. These placid lagoons, lined by emerald coconut plantations and interspersed by turquoise lakes, are the perfect place to get rid of stress and enjoy a perfect vacation.
Kerala is also known for its tea and spice plantations which were the main reason which attracted a vast number of travelers to India in ancient times. Visit the tea plantations and get to know all about the tea making process. Indulge in some spice shopping which is cultivated and prepared in the region and undoubtedly of good quality. You can get the spices like cinnamon, cloves, cardamom and pepper packed to take back home. You can go for nature walks, bird watching treks and breathe in the fragrant air while exploring the spice plantation. But that's not all. No holiday in Kerala is complete without the luxurious pampering offered by Ayurveda, India's ancient healing science. Indulge in a number of Ayurveda massages and rejuvenate your body, mind and soul. There is just so much to do here!
So what are you waiting for? Just plan a tour to God's own country and loose yourself in the pristine beauty of this magical land of Kerala. It will introduce you to the culture and heritage of South India and the kind of lifestyle that local people lead here. Learn about the local cuisine and enjoy a luscious treat of South Indian food which includes unique dishes and flavorful sea food. The perfect accompaniment to the rich meal is a freshly made glass of Toddy, a locally made alcohol. You will surely cherish the moments that you spend here for a lifetime.