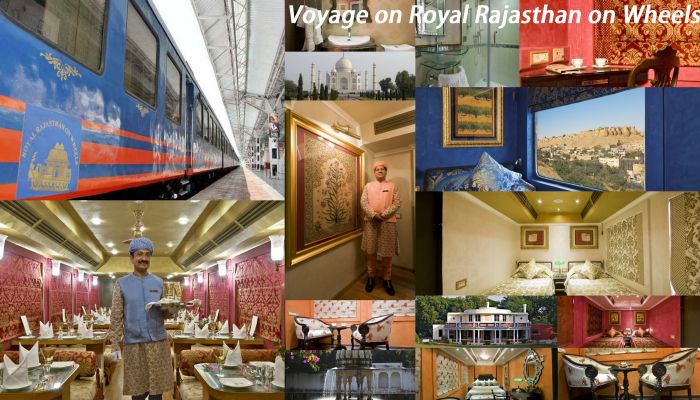 Royal Rajasthan On Wheels is one of those top notch luxury trains which takes you across the golden sands, forts, monuments, holy ghats on a 7-day tour. If it's Rajasthan, it has to be regal. And the train lives up to its name, in every way. The interiors are soaked in royal charm. Vibrant hues accentuate walls and floors of the carriage. The deluxe and super deluxe saloons are themed on gems — emerald, diamond, ruby, sapphire, pearl.
The rooms are well-equipped with writing table, chair, mirror — basic necessities. The train departs from Safdarjung station in New Delhi on Sundays. After a comfortable check in and royal welcome, enjoy the various luxuries the train has in offing. The journey promises to take you back to the historic era of Rajputs — a brief overview of their lifestyle.
Two estro-bars Sheesh Mahal and Swarn Mahal serve sumptuous delicacies. You will be served with the best of Indian, Rajasthani, Chinese and Continental cuisines. The Sheesh Mahal is built of crystals and floor lamps. Swarn Mahal is themed on gold and brass. Add extra taste to your meal with a huge variety of exotic wines and international liquor.
Get set for a week of royal splendor. The train covers Jodhpur, Udaipur, Chittor, Swai-Madhopur, Jaipur, Varanasi and Agra. While to de-board the train to explore these locations, be rest assured of your safety.
Jodhpur is often labeled as the Sun City, owing to its ever bright weather. Take care to notice most of the buildings here — they bear stone carvings and are mostly blue in Color. Hence, Jodhpur is often called the Blue City. Mehrangarh Fort exhibits artifacts used by the royal families like cradles, palanquins, furniture, costumes, utensils and musical instruments. Umaid Bhawan Palace is interestingly divided intro three zones — The Taj Palace Hotel, a museum and residence of the royal family of Jodhpur. Don't miss out on the collection of rare cars owned by the Maharajas.
Udaipur boasts of majestic palaces, the most famous being the City Palace overlooking the pristine waters of Pichola Lake. The palace has a blend of Mughal and Rajput architecture. Explore several other palaces, hanging gardens, pavilions, Sahelion ki bari, Lake Palace and Jag Mandir housed in the same complex.
Chittorgarh Fort is an example of the valor of Rajput rulers. The fort has ruins of temples and monuments. You must attend the light and sound show in the evening which speaks aloud of the courage of these rulers including royal ladies, who chose to burn themselves in fire rather than surrendering to the enemy.
Ranthambore National Park is the highlight of Swai-Madhopur. Tigers dominate the forestland. You can spot leopards, elephant, wild pig, desert fox, jackal hyena, sambar nilgai during jeep safaris. Chirpies include parrots, parakeets, ibis, kingfishers, storks, wagtails! Watchout for predators on prowl.
The erotic carvings on the exteriors of Khajuraho temples are widely recognized. These temples are dedicated to Lord Shiva, Lord Vishnu and Jain Tirthankaras.
Varanasi is one of the top Hindu pilgrimage hot spots. Thousands of devotees flock the Ghats everyday for a sacred dip in holy Ganges. Jyotirlinga Visvanatha Temple here is dedicated to Lord Shiva.
Agra needs no introduction. The Land of Taj Mahal also features Fatehpur Sikri, Agra Fort, which are fine examples of Mughal architecture.
All good things comes to and end. Once you get into the groove of this luxury trail, time seems to be on a hurry! Nevermind, you'll still take home pleasant memories of rich Indian heritage. Keep the Maharaja/ Maharani alive in you for the rest of your "royal" life.